View the video below to see how easy and convenient it is to change from Winter to Spring and back again from inside your home.
Examples of OWR wood storms installed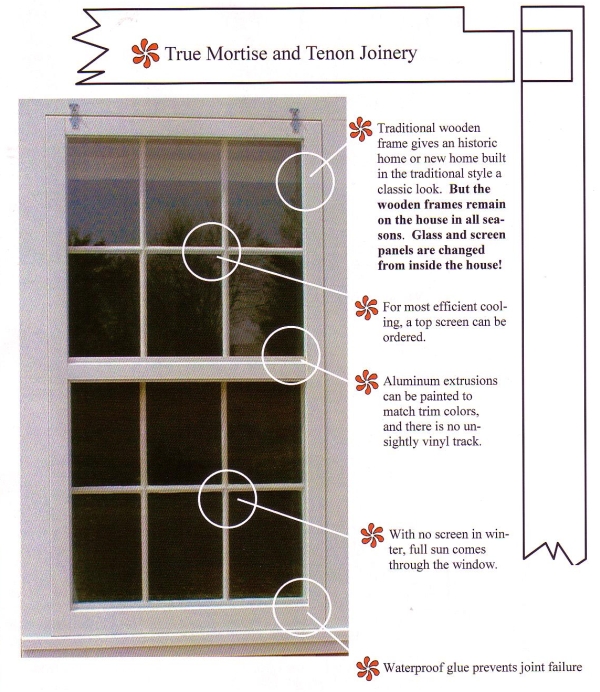 OWR storm windows are constructed of solid clear Accoya and primed with a premium grade oil primer. and painted with marine grade oil paint. Construction is mortise and tenon glued and pinned for durability. Weep holes are built into the bottom rail.

Each storm window is mounted with two stainless steel hangers and matching hook and eye. We recommend flush mount using our optional 1/2 x 3/4" angle frame applied to the edge of the exterior case trim.

Typical residential storm windows by OWR will run either side of $400 depending on size and features such as removable upper screen ($45), angle mounting brackets for eastern style window casing,(~$35), low-e glass(~$50) and finish painting ($40). Each window is built to your specification and handcrafted. See the spec sheet and how to measure directions below. Click here for short video showing features and options.
For more information on upgrading (not replacing) your single pane windows.
Check this fact sheet on low-e storm windows and how quickly they pay for themselves.
Still have questions, email us
---
/*********************************************** * Open offsite links in new window- (c) Dynamic Drive (www.dynamicdrive.com) * This notice MUST stay intact for legal use * Visit http://www.dynamicdrive.com/ for full source code ***********************************************/

© 2013 - Olde Window Restorers - All rights reserved