The Portable Steam Stripper

uses the power of steam to help strip old paint and putty from sash and trim. Just 30-60 seconds softens putty and paint for easy removal.

Benefits and safety

The steam condenses on the surface preventing lead containing dust from being released .


No danger of fire

as working temperature is not greater than 212 F.
Operates on

120v house current, 13 amps



It is

portable

and

Runs about 1 3/4 hours on a gallon of tap water.



No messy chemicals

No danger of charring or fire

Steam Time per Filling: 1 hour 45 minutes
This heavy duty steamer delivers1500 watts of steaming power. Comes equipped with a 7 ½ foot hose and a plastic steam head and handle. A 1 gallon self-contained water tank with preheat and steam settings. It contains a sight gauge on the side of the steamer to view water level at a glance. Heats up within 15 minutes to preheat temperature and produces steam within 2 minutes once at the preheat temperature.
Restoration and Preservation professionals

and homeowners will appreciate a portable steam solution. Steamer to the right comes ready use to remove old putty and glass from sash.

To use for removing paint buildup on jams, sills and trim. Watch the "Steam Paint Removal" video at Historic HomeWorks."

ALso check out the article in the May-June 2006 Old House Journal



John Leeke, American Preservationeer, says

"

It's the greatest thing since sliced bread!

"

For more details link over to the

Historic Homeworks Forum


for John's discussion on the topic

. See what other users have to say.


"Note: More effective paint removal can be obtained with a head modified for steam paint stripping. Check out the discussion Forum at the Historic Homeworks web site for more information on steam paint stripping."

If you have a number of windows to strip, check out my easy to build steam cabinet, It requires only a couple of hours to build and will save many hours struggling to remove paint and putty from your old windows. Check out the streaming video sash deglazing demonstration using the steamer with cabinet.



DIY homeowners

will find this unit affordable and easy to use.

---
"Save America's Windows"


Restoration Report

by John Leeke, nationally known preservation consultant.

Save America's Windows, 140 pages Covers traditional methods and the latest in modern high-tech materials and techniques. Learn how to avoid falling under the spell of the window replacement salesman. Fifteen specific step-by-step treatments to repair weathered sills and deteriorating sash. Window project profiles. Reprints of five window chapters from 19th and early 20th century trades manuals. 140 pages, 230 illustrations. Published March 2009, available now.





(
Preview of Book - PDF
)
$29.95- plus Shipping
---
"Steam Paint Removal"


Restoration Report

by John Leeke, nationally known preservation consultant.

John Leeke's Field Report on Steam Paint Removal. Report covers methods, techniques, equipment, sources, making custom steam heads and profiles three steam paint removal projects.
21 pages, 23 illustrations, 2 step-by-step methods


$14.95 - PDF doc sent via email.
---
We have all read the many articles on how to remove paint and putty from old windows using everything from a soldering iron to a chisel. As one who has tried many of these methods, I have to say that the safest, easiest method yet is using steam.

Below is unedited video demonstrating removal of old putty using the Portable Steam Stripper
Total elapsed time less than 1 minute from starting of steam operation to removal of putty to bare wood.
---

Individual results will vary based on
age and condition of glazing.
---

$299 US plus shipping
US 48 states only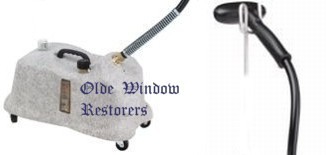 As shown, the steamer is ready for deglazing sash and powering the portable
steam cabinet,
---
High quality detail scraper:
Comes with
7
different scraper blades; 2 1/4" Triangle, 3" Triangle, Ogee Blade, Half Ogee Blade, Panel Blade,
(Cyma Blade & Shield Blade not pictured.)
$39.95
---
OWR sell restoration products to homeowners and professional restorers
across North America. Click to see