---
The Portable Steam cabinet
The companion to the portable steam putty and paint stripper is perfect for the homeowner or restoration professional with multiple windows to restore. This easy to assemble cabinet uses the portable steam stripper as the steam source.

To see the power of steam to make deglazing a breeze, watch the video ----->>.

Benefits:
Low cost

Portable

Reusable

No chemicals


The cabinet can be assembled in about 2 hours with locally available materials

.


Size can be modified to accommodate larger or odd shaped windows.



The cabinet can handle multiple windows allowing you to be working on one window while another is steaming. .

Restoration and Preservation professionals

- will appreciate a low cost, portable, easy to build steam cabinet that greatly speeds the production time of window stripping, deglazing and restoration.

Restoration professional Richard Libby says, "

The advantages I see with your stripper is that it's light, portable, does not require 220V, is low cost and works nearly as well as the $6,000 unit.

"



DIY homeowners

will appreciate the low cost and ease to build and use. Whether you have 1 over 1 or 16 over 16 windows, you will realize the benefits of the portable cabinet the first time you use it.

---
What about stripping paint from doors?
Check out the video below to see.
---
Cabinet Plans $19.95 - E-Doc - Emailed
Enhanced plans include how to build racks shown in demo and attach steamer permanently if desired. Also as of
January 2013, how to build the open bottomed steam box for doors and exterior only of windows.
Material cost of about $125.
---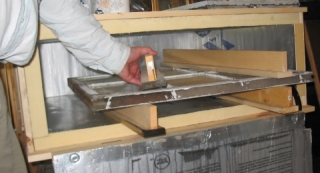 ---
Assembled Cabinet upgraded plans below